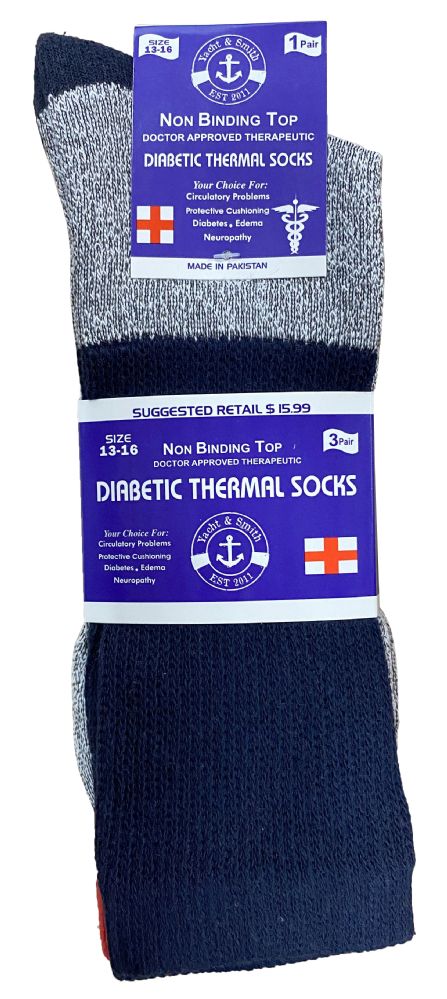 Wholesale Footwear Yacht & Smith Mens King Size Thermal Ring Spun Non Binding Top Cotton Diabetic Socks With Smooth Toe Seem
Description
This is a 1 piece purchase option for the purpose of samples, Large case packs are available for purchase at low discounted rates in the variation options. Please note if an image shows more then 1 color , only 1 color from that image will ship at our discretion. Please use order notes at checkout for a color preference and we will try to accommodate your needs.
THERMAL WARM DIABETIC SOCKS: Specially designed crew socks for those with diabetes, edema, neuropathy and other ailments. Loose fitting top of socks allow for better circulation than regular socks. Sock size 13-16 fits mens U.S. shoe sizse 12-15
THERMAL WINTER SOCKS FOR DIABETICS: Thermal socks for the winter will keep feet warm. Non-binding top for comfort as well as easy on and off. Marled colored sock goes well with other basic colors. You will receive 2 pairs with a blue top and toes, 2 pairs with a black top toes, and 2 pairs with a red top and toes as pictured per 6 pairs.
SOFT TO TOUCH RINGSPUN COTTON - SEAMLESS TOE: Soft to touch cotton keeps feet cool and dry. Seamless toe gives a smooth toe seam, which is especially important for comfort for those with circulatory concerns.
CUSHIONED SOLE: Cushioned sole on bottom of feet provide added durability. Stretchy fabric in all parts of the sole allow for easy put on and taking off. 90% Ringspun Cotton, 7% Polyester, 3% Elastane.
YACHT & SMITH THERMAL DIABETIC SOCKS IN BULK: WE stand behind the quality of our socks and legwear.